Curtain wall design principles & information
Custom Search

The proper curtain wall design, installation, and operation of cladding in buildings is a culmination of the coordination activities among architects, engineers, manufacturers, glazing contractors, building officials, and of course building owners.
Building facade, apart from its appearance, functions as an external enclosure to protect the building from weather and to achieve pressure-equalization between the outdoor and indoor environment. Its construction is not only an assembly of several components, but an advanced technology which involves sophisticated calculations.
Typically the architect selects the cladding material for appearance and specifies requirements for weatherproofing, performance, and durability of the facade.
Major advancements in facade technology gives Architects and Specialists the opportunity to vary the appearance of the building envelope, create an integrated grid system with all of their ideas, such as, windows, ventilation elements, aluminum features, etc. while maintaining a high level weatherproofing.
Weather tightness, moisture control, thermal insulation, and sound transmission are areas normally taken care of by the curtain wall designer.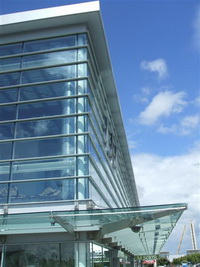 From knowledge of the weight of the cladding, the engineers designate connection points and design the structure to carry the anticipated loads. It is their responsibility to indicate the anticipated movement of the structural frame in order for the curtain wall supplier to properly detail the connections to the structure.
The effect of floor deflections due to the weight of cladding and live load, the magnitude of anticipated building drift, column shortening, and thermal effects should all be taken into consideration.
The designer should have a good understanding of tolerances required both horizontally and vertically for proper installation of curtain walls. In the core-braced steel frame it is likely that the perimeter spandrel is designed as simply supported beam for gravity loads and hence somewhat limber as compared to a wind-resisting moment-connected spandrel.
Even when the gravity loads are heavy, typical beam connections at beam ends have very little stiffness to prevent the rotation of spandrel beams. This is, perhaps the single most common cause for cladding problems and it is easily avoidable by proper detailing of connections.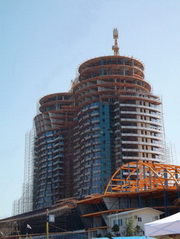 Developments in curtain wall design has made it more functional, providing architects and engineers with the flexibility to create high performance solutions, which are visually exciting, both internally and externally.
It is, therefore, important to ensure facade structures are properly designed, installed and maintained, to provide an interesting living environment, while maintaining 'green' and safe living environment for the community. Go to "Facade Engineering Society" for membership criteria or go to "Center for windows and cladding technology" to obtain more technical info.

Custom Search
Return from Curtain wall design to Curtain wall cladding