Curtain wall of a building defines its exterior elegance
The elegance of a building, is defined by the external aesthetics of its curtain wall design that utilises a variety of materials including glass, stone, brick veneer, aluminium, composites, balustrades, metal roofing, skylights and glass fibre reinforced concrete (GFRC).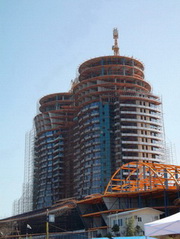 Development in facades has made it more functional, providing designers with the flexibility to create high performance solutions which are visually exiting internally and externally.
A building is like a sculpture, and an Architect uses the above materials as a medium by employing the services of specialist designers and contractors to fashion them into shape and forms that are not only functional as an office, mall, or residence but are also a work of art and a land mark where we live.
Cladding is a very expensive part of the building, making up as much as 10 to 20 percent of a building's initial cost. If the building façade is improperly designed or installed, requiring serious repairs, the repairs can cost many times more than the original cost because of the difficulties of re-cladding a building that is already in use.
Until the invention of structural steel building frame, about a hundred years ago, most exterior building walls were load-bearing elements pierced by windows to provide light and ventilation.
The walls served the dual purpose of providing support for the upper floors and forming an enclosure concurrently.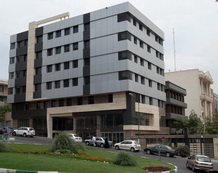 Today the only function of building cladding systems is to act as a filter system without having to bear any of the loads from the structure.
Facade works include such important building components as windows wall, curtain wall, cladding panel, cable net, cable truss, etc, that form an integral part of the external envelop of a building . It is therefore important to ensure facade structures are properly designed installed and maintained to provide an interesting living environment.
On this site you'll find a comprehensive source of information on specifying, design issues and constructing building envelops using different types of curtain wall systems, structural glass and materials as well as recommendations for carrying out performance tests prior to installation.
Custom Search
Developments in curtain wall design has made it more functional, providing architects and engineers with the flexibility to create high performance solutions, which are visually exciting, both interna
Curtain wall failure can arise because of the differential movement both laterally and vertically between the building columns. Thermal movement, long-term creep of a concrete frame, and foundation
Curtain wall system is not just a barrier to the external envelope of buildings, it is crucial to the image and the perception of a building.
In building construction, particularly high rise buildings, curtain wall test is a normal practice. Usually, a full-scale mock-up of proposed cladding system at a special testing facility is put up
The modern procedure of making "plate glass" first introduced in France in 1668 consists of rolling it continuously between double rollers.
Point fixed glass curtain walls are used most frequently in structural glass curtain walls. The glass panes are either bolted or clamped with components providing attachment to the structural system.
Truss glass facade system geometries are largely unrestricted in terms of surface geometry, therefore they can be sloped, curved, faceted, dished, stepped, all with relative ease.
Strongback glass facade system can also be built up of multiple standard steel sections, such as two tubes or pipes joined by continuous, or more likely discontinuous web plates welded between the two
With cable truss glass systems the transparency of the facade is improved significantly realizing the architects' desires through the art of structural design and engineering.
Aesthetically, mast truss glass typically present a predominant, yet elegant, exposed structure. Some designers prefer a dominant structural presence, to feature the structure rather than minimize it.
Brick facade in combination with other cladding materials such as glass, aluminium, gfrc and stone can make a building an icon where we live and an attribute to the designers.
The aluminium curtain wall is one of the most popular methods of cladding the exterior of a building. In simple terms it consists of a framework in which aluminium, glass, and other surface materials
Stone facade provides a distinctive alternative to glass and metal curtain walls. Distinctive pinks, reds, greys, and blacks of polished granite and the white, buff, and green of marble along with the
GFRC cladding system also has the advantage of being produced in complex shapes and forms, giving the architect the freedom of designing the façade in a post modern or classical fashion.
Glass curtain wall often provide the appearance of being all glass. Some are glass with metal spandrel covers and some incorporate granite facing panels in the spandrel frames.
Architectural glass types stem from major advancements in glass production technology which gives the architects and designers the opportunity to vary the appearance of the building envelop.
Glass panels have always been the most suitable material in the eyes of modern architects as witnessed by scores of tall buildings built within the last two decades.
Glass panel strength from an engineering point of view consists of selecting an appropriate thickness for a given area and design pressure from charts based on tests conducted by the glass industry.
The facade structures supporting glass envelops are the most distinctive feature in a modern building today.
curtainwall wall cladding info.com privacy policy statement.
Please enter your buying requirements in detail. Provide key information like product specifications, estimated quantity etc.
Would you like to share your knowledge about curtain wall? Great, find out how you can submit your story or tip here.